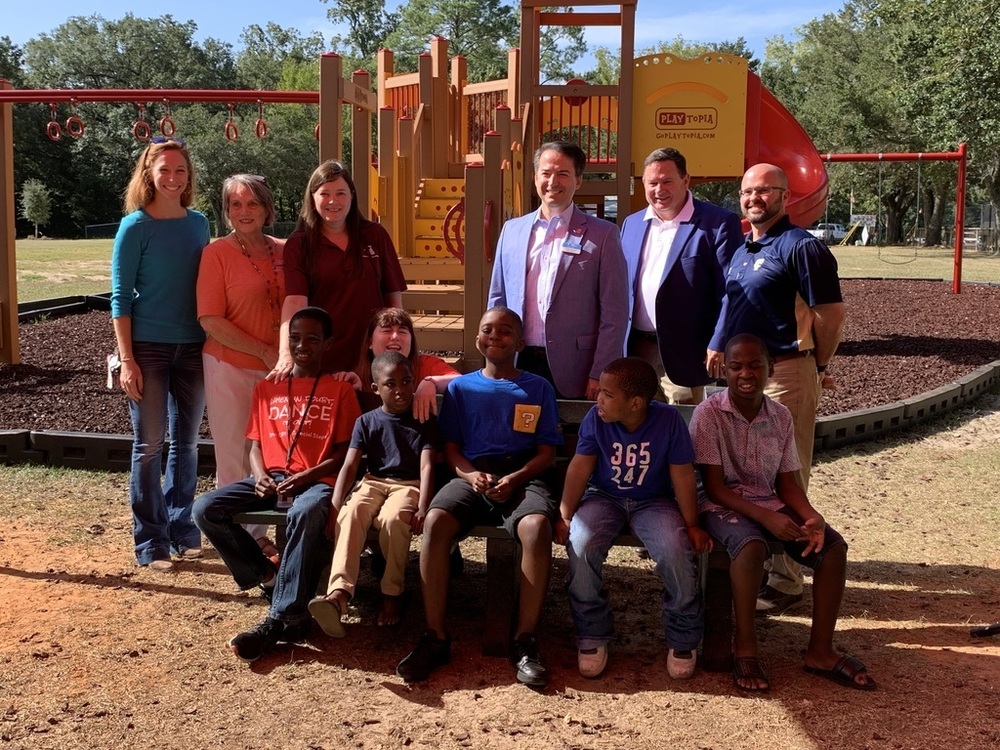 Buddy Benches Arrive on Campus!
Desiree Celaya
Monday, September 30, 2019
Bottlecaps to Benches is entering year two and Buddy Benches are installed at each campus of Thomasville City Schools. Harper Elementary held a dedication ceremony for its second bench to celebrate the partnership between Thomas University and First Commerce Credit Union in the "Buddy Bench" initiative which was started by Thomas University's Camp STEMtastic. Harper's Recycling Club members were involved with collecting bottle caps from designated spots in the school, then sorting, bagging, and weighing the bottle caps. Pictured are Quenton Ross, Maurice Ricks, Camron Jones, Caleb Mickens, Dominique Hill, Camp STEMtastic Coordinators Jen Hamilton and April Penton, Harper teachers Michelle Truitt and Andrea Brower, First Commerce Credit Union Senior Director Heath Dawson, Thomas University Director of Development Kurt Stringfellow, and Thomas County Schools Science Coordinator Scott Sweeting. Brower took each bag home and washed the bottle caps to ensure they were clean and ready to be picked by Penton. The bench at Harper was especially collaborative as the bottle caps used to help complete the bench came from excess caps collected by Harper and the Thomas County School System. The idea behind the benches is that a student can sit on the bench when they need a friend and someone can join them. Seeing the permanent fixtures gives students a sense of pride in knowing that they have done something for not only their school and community but also for the planet on which they live. The service project is a collaborative effort of schools, universities, and businesses that are collecting caps in designated recycling containers around the Thomasville community. There is a need of 200 pounds of caps and $250 to construct one bench at the Green Tree Plastics Recycling Center in Evansville, Indiana.