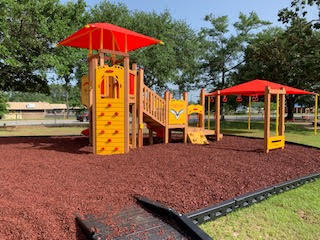 Harper Playground Completed!
Melvin Hugans
Sunday, July 07, 2019
Harper students will have a great surprise when they return to school during the 2019-20 school year! Harper Teacher of The Year Ms. Annie Myers wrote a grant which was designed to purchase a new play structure for Harper students. Ms. Myers formed a committee to help with the planning and instillation of the play ground. Ms. Myers stated that "Our goal was to incorporate special needs options for students. We are excited about the new space"
Harper Principal Melvin Hugans stated that Ms. Myers is an inspiration for us all! Her passion for students at every level is unmatched!" The playground is now ready for use as students prepare to return for the 2019-2020 school year!